[ad_1]

A tale of two markets … how to identify the winners and losers … benefiting from Louis Navellier's computer-based systems
We begin today's Digest with two charts …
Below is the chart of Stock A.
Over roughly seven months, it lost 44% of value.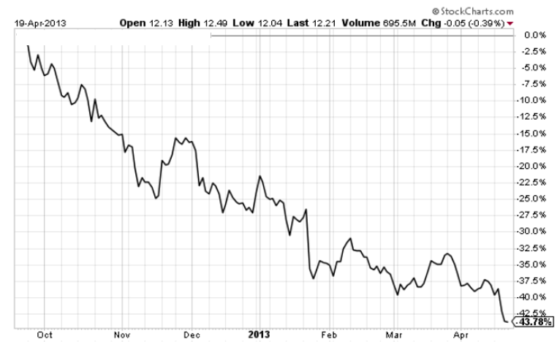 And here's the chart for Stock B.
Over about six months, it lost 40%.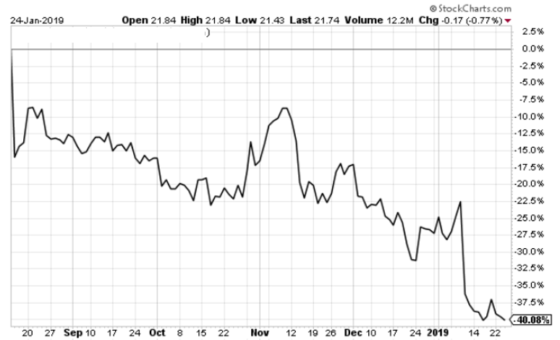 At face-value, these declines are very similar. Most investors would find them equally brutal to sit through.
But that's where the similarity ends.
Let's now pull out and show each loss in broader context.
I'll circle the period of loss in red, showing the surrounding price-action, extending through today. Here's Stock A …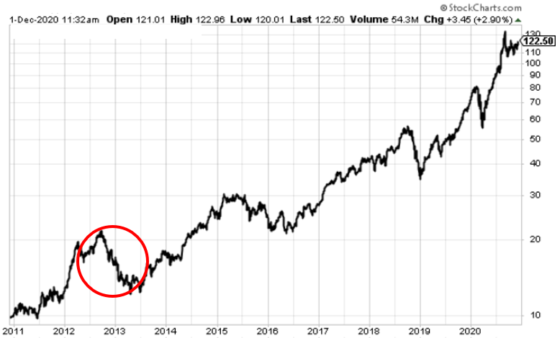 And here's Stock B …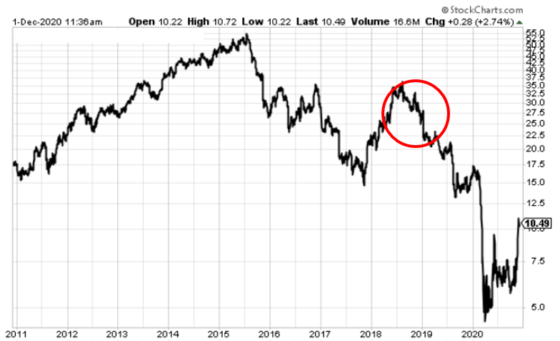 Because the chart is using logarithmic scale, the degree to which these two stocks have treated investors differently is a bit veiled. So, let's clarify …
From its "down 44% low," Stock A has gone on to make investors 904% on their money.
And from its "down 40% low," Stock B has gone on to lose investors an additional 52% of their money (the losses reached 80% earlier this year).
So, what have we been looking at?
The divergent fortunes of Apple Inc. (AAPL) and Macy's Inc. (M).

***Today, we're at a sea-change moment in the stock market, with many stocks going the way of Macy's, while an elite group goes the way of Apple
It's critical to rid your portfolio of the first type, while filling it with the second.
Now, that's a bit of a "thanks, Captain Obvious" comment. We all know this. The problem is it's far easier said than done.
In the moment, knowing whether you're holding an Apple or a Macy's can be very hard to decide — after all, a 40% loss hurts equally-bad, and many financial pundits will be happy to spout gloomy predictions (I recall Apple's 44% decline was accompanied by some talking heads claiming the company's glory days were officially over).
So, you have to decide for yourself …
Are you holding a quality stock that's going through a temporary drawdown before it continues climbing, creating vast, possibly life-changing wealth for you and your family?
Or are you witnessing the crumbling of a dying business that will destroy even more of your wealth, possibly resulting in all sorts of financial consequences — a canceled vacation, a hard choice about a child's education, or possibly a delayed retirement.
To get to the answer, start by asking yourself two questions:
Are you on the right side of whatever long-legs, macro trend is shaping the world and investment markets?
And, assuming you are, are you invested in fundamentally-superior companies at the forefront of those trends?
If you can answer "yes" to each question, you're in good shape.
Let's dig into each a bit more, beginning with the right macro trend.

***The comparison of Apple and Macy's above wasn't chosen at random
They're the poster-child comparison for an unstoppable market trend that regular Digest readers are very familiar with …
The Technochasm.
Our macro specialist, Eric Fry, coined the term to describe the growing wealth gap that's being fueled by profits generated from technology — we're seeing this gap separate our society, but also stocks.
Today, technology is acting like a great sifting machine. Companies are either benefiting from it — or being destroyed by it.
Apple or Macy's.
Famed investor, Louis Navellier, sat down with Eric at our recent Technochasm Summit to discuss this tale of two stock markets (if you missed the evening, you can watch a replay by clicking here). Here's how he described it in his Market 360 update last week:
The world is going through a process of computerization, automation and mass technological adoption.

With every passing day, it seems like technology companies are taking over more and more of the American economy, and quickly scaling to $100 billion companies and beyond …

Meanwhile, these new businesses and technologies are wreaking havoc on the established infrastructure. And it's ripping the stock market in two. It certainly explains why tech stocks have rebounded to new highs after COVID-19 first began spreading around the globe.

Technology keeps advancing, while both creating and destroying businesses at an incredible rate.

The Technochasm explains how technology is creating a wealth gap between the 1% and the other 99% in America.
Louis goes on to note how, on one side of that divide are certain tech companies that are growing faster than ever before. On the other side are the companies going bankrupt in the blink of an eye.
***Investors must understand that technology is not just impacting stock returns, it's altering the very nature of our stock indexes
For example, look at the graphic below highlighting many household-names that were removed from the S&P between 2013-2017 (on the left side). You'll also see the stocks that were added (on the right side).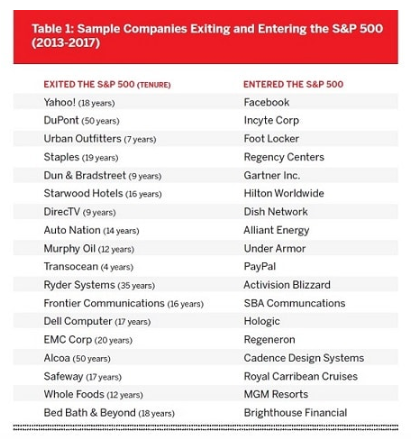 Source: Innosight
If you analyze each name, you'll see a general pattern of tech replacing non-tech. And this has only accelerated in recent years.
For example, this past August, Exxon, Pfizer, and Raytheon were booted from the Dow Jones Industrial Average, replaced by Salesforce.com, Amgen, and Honeywell — all tech plays.
Why would an investor expect this trend to slow down?
Back to Louis:
Ten years from now, about half of today's Fortune 500 companies will be gone and replaced by startups we haven't heard of yet.

Technological shifts are the main reason for this growing trend …

… companies that were once household names are getting disrupted by tech upstarts and seeing their stock prices plummet 50% and higher.

Case in point: Macy's.

In 2015, Macy's was one of the largest, most admired retailers in the world. By 2020, the stock has plunged 90%.

***Now, "technology" is a big catch-all trend. What are the specific tech-fueled trends that are helping drive the Technochasm?
In his update, Louis points toward hypergrowth trends like driverless cars, artificial intelligence, 5G, blockchain technology, and the Internet of Things.
He says that they are all coming of age at the same time and poised to generate trillions in new wealth.
Back to Louis:
I'm talking about $22 trillion in the financial service industry. 5G is set to create $12 trillion in new wealth over the next few years. Artificial intelligence is on pace to unlock over $15 trillion in new revenue. The Internet of Things will unlock $19 trillion. And driverless cars are predicted to add $7 trillion.

And investors who get in early on these trends are about to make the gap between the 1% and the 99% even wider.
So, is technology your portfolio's tailwind …or its grim reaper?

***Question #2 — are your technology stocks rooted in superior fundamentals?
Unfortunately, all tech stocks are not created equal.
Take Apple and, say, Xerox.
By the way, if you're questioning Xerox as a tech stock, here's how the company describes itself:
We are a workplace technology company building and integrating software and hardware for enterprises large and small.
Technology company or not, Xerox simply doesn't have the fundamentals of Apple — and it shows.
Below, we look at the two stocks over the last year. While Apple has rewarded shareholders with 86% gains — despite the COVID-bear — Xerox has destroyed 40% of investor capital.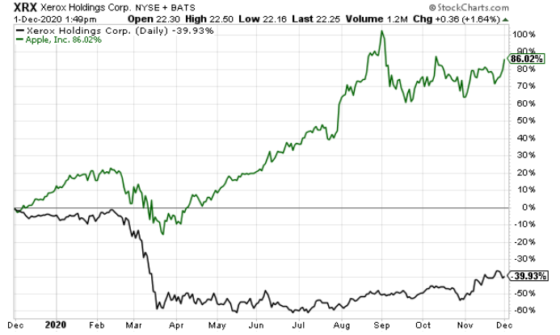 The difference here is fundamental strength — and that happens to be the cornerstone of Louis' market approach.
In Louis' update, he writes how, in his four decades of investing, he's had a front-row seat to the acceleration and adoption of technology.
Interestingly, Louis was actually one of the first analysts to use technology to help him identify fundamentally-superior stocks. He did this by using computers in his stock selection process. This helped cement him as one of the early pioneers of "quantitative analysis" that's all the rage on Wall Street today.
From his update:
I was able to use the power of computers to run my proprietary quant algorithms and quickly uncover stocks about to break out to new highs.

You see, my trading systems are designed to uncover stocks with superior fundamentals. I use eight fundamental factors when I consider recommending any stock, regardless of the sector it's in.
Regular Digest readers know these factors:
Earnings Growth, Earnings Momentum, Earnings Surprises, Analyst Earnings Revisions, Sales Growth, Operating Margins, Return on Equity, and Cash Flows.
When you combine them, the results can be extraordinary — especially when overlaid onto cutting-edge technology.
To illustrate, Louis' system found Oracle Corp. (ORCL) when it was trading for just $6 per share. It also uncovered Apple and Intel Corp. (INTC), before they became big household names.
By the way, if you want a quick snapshot of the fundamental strength of your tech stocks, check out Louis' free Portfolio Grader tool. It's rooted in Louis' objective, numbers-based approach to the markets.

***Looking forward, huge wealth will be created this decade by technology leaders that can boast fundamental strength
How to position yourself for this wealth-creation was the subject of Louis' and Eric's recent Technochasm Summit.
As we noted last week, the event turned out to be one of the biggest in InvestorPlace history, with overwhelming, positive feedback from attendees.
If you missed it, here's Louis on why it's worth your time to watch the free playback:
We'll show you clearly what's at stake for the future of stock investing.

And we'll recommend a way to make well over $100,000 in the next 12 months from a niche group of stocks.

You'll also get a free recommendation with 10X potential.

Eric and I have spotted what's coming, and a way for folks to get on the right side of the Technochasm. We lay it all out for you in our Technochasm Summit, which you can view here.
It turns out, Louis and Eric are adding a new recommendation to this portfolio tomorrow.
Bottom line — technology is changing our world. It's changing our stock markets.
You're going to have your Apple's and your Macy's …
Make sure you're prepared.
Have a good evening,
Jeff Remsburg
[ad_2]
Written by Jeff Remsburg.
View the original article at here.
| Stock Market News, Stock Advice & Trading Tips
investorplace.com