[ad_1]

You know me as a long-term investor in hypergrowth themes and stocks.
To me, that's the best way to build your wealth and realize your financial dreams. That's why we talk a lot about the massive, exciting trends changing our world and making investors rich.
So here's one thing you may not know about me …
I'm an avid chart reader.
I learned the importance of charts and how to really read them in my first job (as a stockbroker) from a mentor who has stayed a lifelong friend.
This was before smartphones, which means I learned the old-fashioned way — at happy hour after work.
On "bev naps" — those little napkins you get with your drink — we would draw charts, map out strategies, and anything that would give us an edge.
I still have a few of those napkins. They contain some of the best investing lessons I've ever learned.
That includes about breakouts, which is when a stock or other asset class "breaks out" to higher prices on big volume.
Breakouts are significant on many levels, and they are often a prelude to much higher prices.
I know 2021 is only two weeks old, but we've already witnessed a significant breakout that may go down as one of the greatest in history …
If you've been following bitcoin at all, you know exactly what I'm talking about.
I'm extremely bullish on bitcoin, blockchain, and especially smaller cryptocurrencies known as altcoins. (We just added a new buy last night in Crypto Investor Network.) They are the kind of hypergrowth investments I love in transformational technologies that will change our world and make smart investors a ton of money.
But wow!
The world's largest cryptocurrency has been on an amazing run with a pretty steep pullback thrown in for good measure. That's fine, but short-term investors have been doing their best to navigate the highs and lows.
The highs began in December, when bitcoin rallied above $20,000 for the first time ever. This sparked a social media frenzy as long-term bitcoin believers rejoiced.
And it didn't stop there. In less than one month, bitcoin would more than double to trade above $41,000.
Talk about a party! Bitcoiners around the world celebrated not just New Year's but the crypto's unbelievable feat as well.
And then the rug got pulled out from under them. Well, sort of.
Bitcoin fell by more than 25% to $30,000. That's still 3X higher than where it traded just in November, but the naysayers took the opportunity to call it the bursting of the bitcoin bubble.
The meteoric rise of bitcoin wasn't just likely to be followed by a pullback … it should have been followed by a pullback. The short-term selling, a lot of which is profit-taking, makes perfect sense. After rallying from $20,000 to $41,000 — a 105% surge in a matter of weeks — a 50% retracement brought bitcoin back to support. It then traded higher again.
So now let's look at a chart. And as you can see, that pullback doesn't look nearly as dramatic when compared to the overall strength, does it?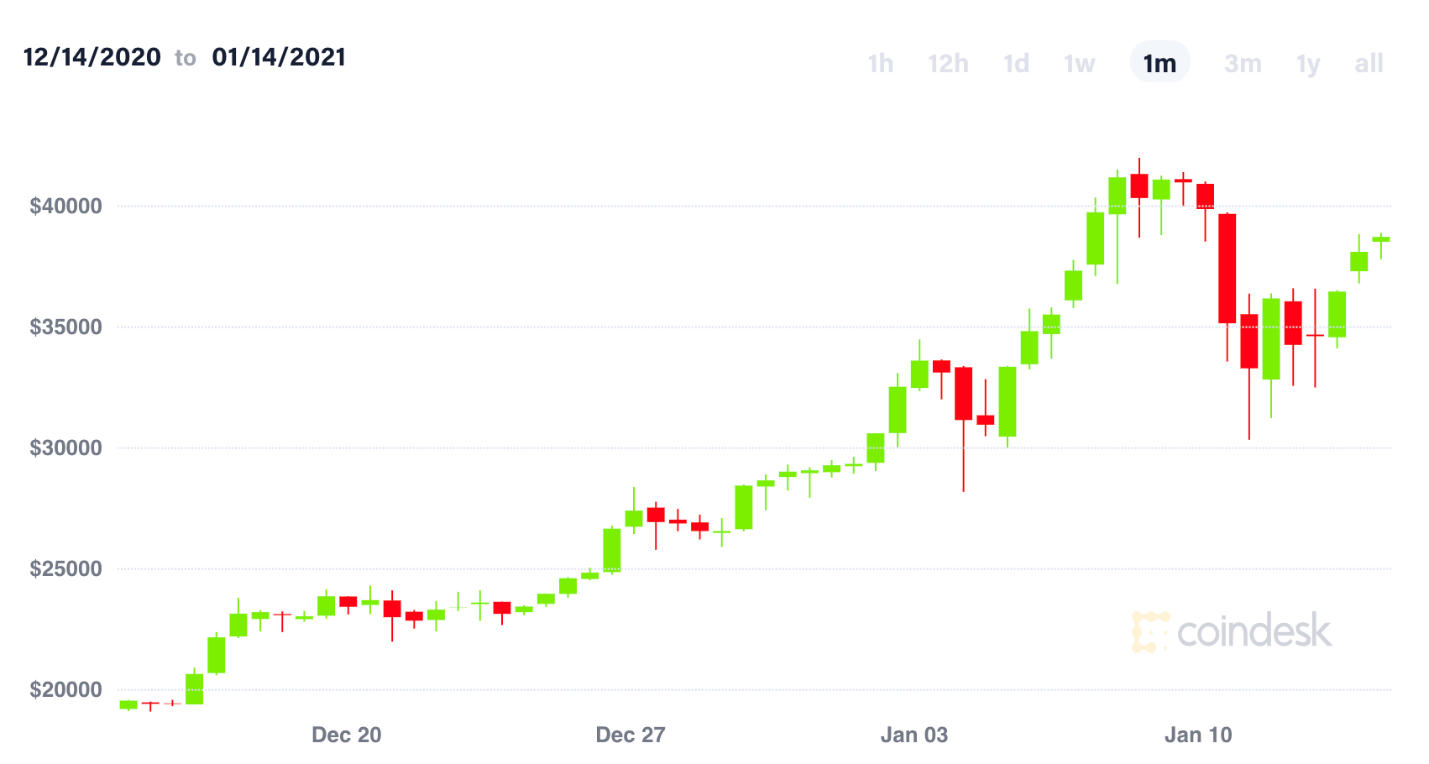 My friend Charlie Shrem and I think the action over the last month is one of the most important events in the cryptocurrency sector since bitcoin started it all in 2009. And Charlie was around practically at the beginning.
The breakout and follow through above $20,000 proves that bitcoin and its smaller peers — the altcoins we follow in Crypto Investor Network — are here to stay.
In fact, the coins in our portfolio rallied 72% on average over the last month, bringing our portfolio's overall return to about 78% in a little under four months since we started.
And we see even bigger gains ahead. There is a massive amount of money flowing into cryptocurrencies right now as bitcoin and altcoins cannot be ignored by large firms anymore. We're seeing more money managers, hedge funds, large institutions, and even publicly traded companies turn to cryptocurrencies and the blockchain technology that they run on.
This big money realizes that if they don't adopt a plan today, they will be left behind.
Cryptos and the blockchain technology they are built on are going to change everything. The way you buy everyday goods and services … purchase a home … pay your taxes … even how you order a pizza.
This transformation is already underway, but the truly seismic shift — when the massive profits are made — is coming as businesses, consumers, and those big-money investors realize what's going on.
We're seeing that now, and that's why we just recommended a new crypto opportunity in the brand new Crypto Investor Network issue. Moving money in the future will take place squarely on the blockchain, and our new buy is one of the best positioned altcoins to capture a chunk of this the multi-trillion-dollar industry.
Ignoring cryptocurrencies and the blockchain would be similar to ignoring the advent of the internet.
I don't want anybody to miss this opportunity to be at the forefront of the next big technological revolution moving into the mainstream in the Roaring 2020s.
On the date of publication, Matthew McCall did not have (either directly or indirectly) any positions in the securities mentioned in this article.
Matthew McCall left Wall Street to actually help investors — by getting them into the world's biggest, most revolutionary trends BEFORE anyone else. Click here to see what Matt has up his sleeve now. 
[ad_2]
Written by Matt McCall.
View the original article at here.
| Stock Market News, Stock Advice & Trading Tips
investorplace.com