[ad_1]

It was the second-largest week so far this year in terms of amounts raised in the North American cannabis industry as more investors look for ways to access the burgeoning market.
Boosted by a $575 million raise on the NEO exchange in Canada (see below), the total amount raised last week was $862.8 million. Equity raises accounted for the largest portion with $853.4 million raised.
The total amount of money raised in the cannabis sector year-to-date is $8.5 billion, nearly double the $4.7 billion for the same period last year.
This weekly series from Marijuana Business Daily and Viridian Capital Advisors provides the latest data on cannabis investment activity and M&A, along with key takeaways, analysis and trends based on recent market moves.
The data below, provided by Viridian Capital Advisors, is through the week ended July 19.
For more analysis and in-depth looks at the investment trends and deals driving the cannabis industry forward, sign up for our premium subscription service, Investor Intelligence.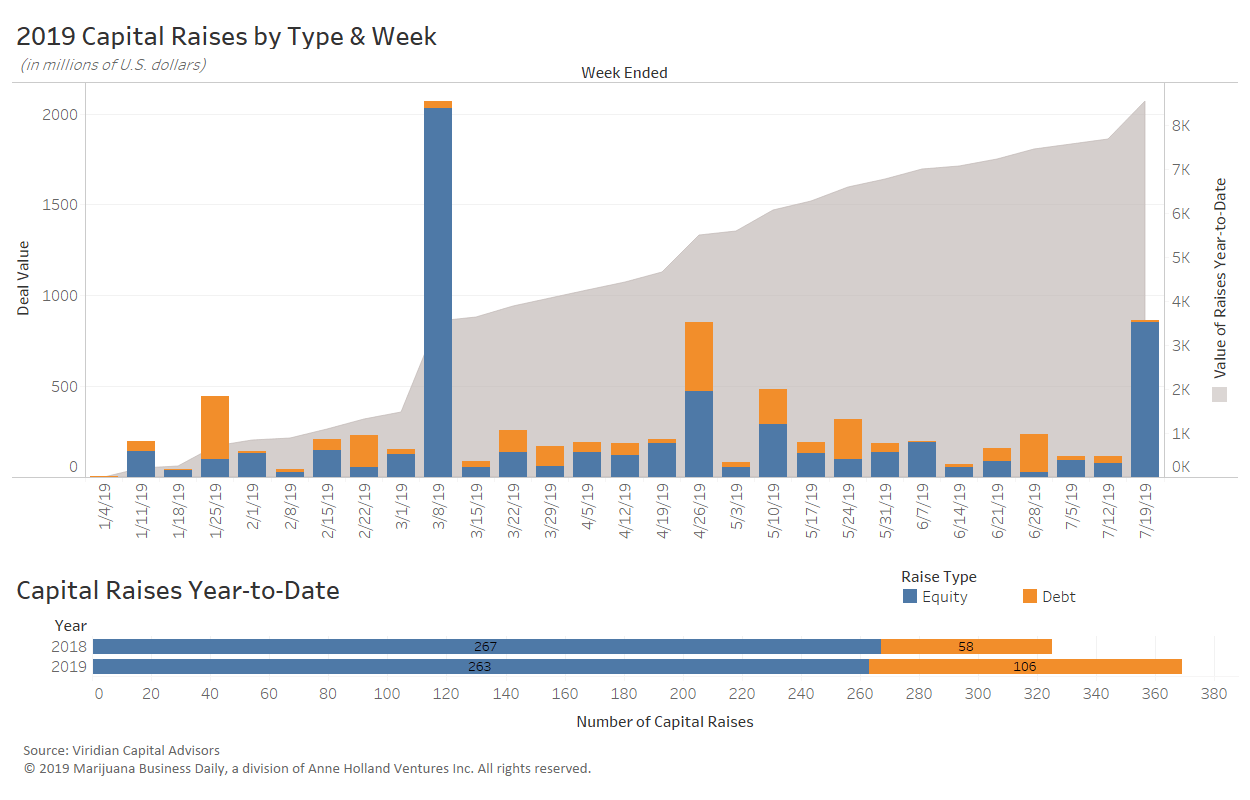 Top raises closed last week:
In terms of amounts raised, the largest transaction closed the past week was $575 million by New York-based Subversive Capital. Subversive formed a special purpose acquisition company (SPAC) with plans to invest eventually in the cannabis industry. SPACs are increasingly popular as a means of raising money for future investment in cannabis, particularly on the NEO exchange in Canada. The benefit of using this mechanism, according to Viridian Capital Advisors, is that it allows investors to access "blind pools" to buy into the industry.
While the price tag was not nearly as large as many other raises, the $7.7 million Series A raise by The Arcview Group may be more significant to the industry in terms of possible implications for institutional investor activity. For all intents and purposes, the raise was a takeover of Oakland, California-based Arcview by New Jersey's Trivergance and Cresco Capital Partners of Dallas.
Top M&A deals closed last week:
Mojave Jane, a California cannabis group, acquired a 21% equity stake in software, technology and cannabis delivery company 2083 Group. Mojave Jane, which trades on the Canadian Securities Exchange as JANE, has an option to increase that stake to 40% for a total investment of roughly $2.6 million.
Toronto-based MPX International acquired a 20% stake in video platform group Kaajenga Cannabis for roughly 250,000 Canadian dollars ($190,300) in a combination of cash and stock. The deal provides MPX with exclusive access to Kaajenga's educational video platform – a mechanism the company sees as a way to expand awareness of its brand despite the restrictions on cannabis marketing and promotion.
Viridian Capital Advisors is a financial and strategic advisory firm that provides investment banking, M&A, corporate development and investor relations services to emerging growth companies and qualified investors in the cannabis sector.
[ad_2]

Written by Maggie Cowee

Marijuana Business Daily

Source link