[ad_1]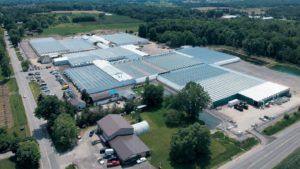 (This story has been updated with commentary from lawyer Matt Maurer.)
Citing noncompliance with Canada's federal cannabis law and regulations, embattled producer CannTrust says it has received a Notice of Licence Suspension from Health Canada.
It is the second cannabis company to have a federal license suspended in recent weeks.
CannTrust said the notice constitutes a partial suspension of its licence for standard cultivation and a full suspension of its licences for standard processing, medical sales and research.
"The notice states that Health Canada has suspended CannTrust's authority to produce cannabis, other than cultivating and harvesting, and to sell cannabis," according to a statement by the company.
CannTrust previously halted all sales of cannabis.
The Ontario company says it will be allowed to cultivate and harvest existing batches previously propagated while the suspension remains in effect.
It also is still permitted to conduct ancillary activities, including drying, trimming and milling.
CannTrust Tuesday halted trading of its shares (TRST) on the Toronto Stock Exchange earlier pending the announcement.
The company's shares trade on the New York Stock Exchange under the ticker symbol CTST.
Since a whistleblower alerted Health Canada in July to unlicensed cultivation at the company's cultivation facility in Pelham, Ontario, CannTrust has been in a tailspin.
In the weeks following, the company halted all adult-use and medical sales, fired its senior leadership and is facing an investigation by police and securities regulators.
'Doesn't matter how big you are'
Matt Maurer of Torkin Manes cannabis law group in Toronto, said Health Canada's move comes as no surprise to industry watchers.
"Certainly it's the most significant case of a license being suspended thus far," he said.
CannTrust's suspension comes on the heels of a suspension handed down to British Columbia-based Evergreen Medicinal Supply on Aug. 9 over noncompliance with federal law and regulations.
"It signals that none of the licensees are above potentially running into problems. It doesn't matter how big you are, or how well run you appear to be," Maurer said.
CannTrust had been considered an industry leader in regulatory compliance.
"This was a company that from the outside looked like it was very well run, massive company that had really good things going for it. And then all these things sort of came out of left field, which ultimately resulted in their license getting suspended."
Health Canada could reinstate CannTrust's licences if the reasons for the suspension no longer exist or if the firm demonstrates that the suspension was unfounded, according to the company.
This story will be updated as more information becomes available.
For analysis and in-depth looks at the investment trends and deals driving the cannabis industry forward, sign up for our premium subscription service, Investor Intelligence.
[ad_2]

Written by Matt Lamers

Marijuana Business Daily

Source link