[ad_1]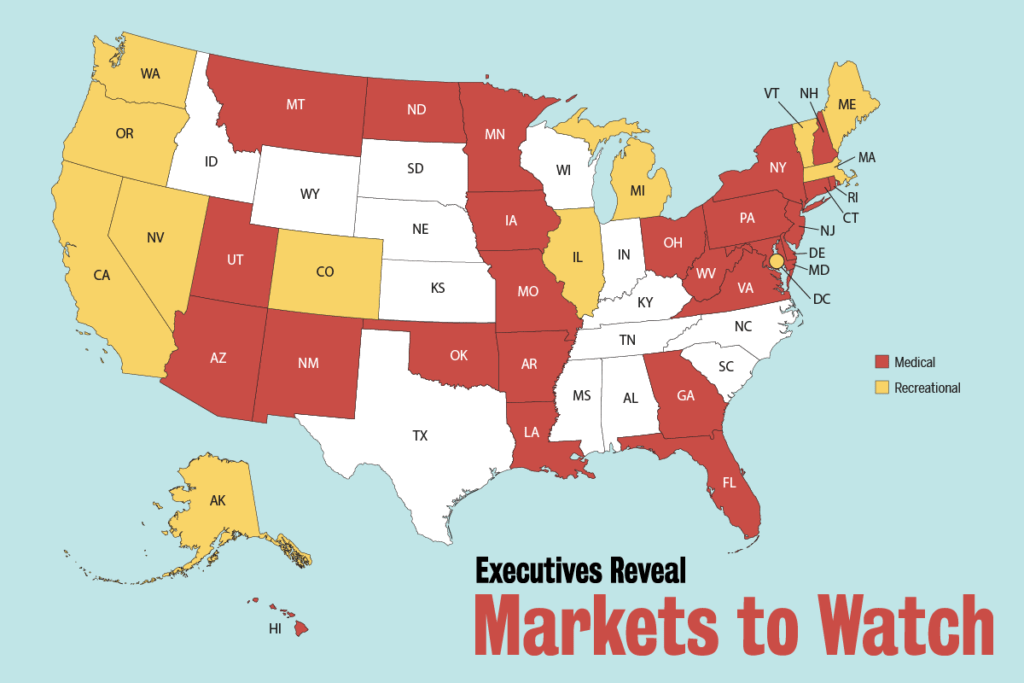 Nicholas Vita
CEO
Columbia Care
What are the top two or three state U.S. marijuana markets, either medical or recreational or both, that you're most bullish on for 2020 and 2021?
We see exceptional growth opportunities in every market.
Massachusetts, New York and Florida are among the states expected to be strong performers this year, but the list of "markets to watch" includes Virginia, New Jersey, Ohio, Pennsylvania and Delaware.
Why are you keen on these states?
In Massachusetts, we are delighted to report that demand has been very strong among both adult-use and medical consumers.
Increased productivity resulting from our capital investment in 2019 at our Lowell manufacturing and cultivation facility will allow us to improve margins, increase efficiency and potentially enter the wholesale market with our portfolio of unique brands and form factors – if we don't sell everything we make, which is what has been happening historically as demand has outstripped supply.
In addition, local community and municipal considerations have resulted in fewer operational adult-use dispensaries in comparison to similarly sized markets like Colorado.
We are the market leader in New York.
When New York approves adult-use sales, with around 20 million residents and about 250 million visitors per year, the New York market will have the potential to be well over 10 times the size of Colorado's – and one of the largest in the world.
The NYDOH (New York Department of Health) recently began materially expanding the program.
This has enabled us to introduce a number of high-quality, lower-cost products, including flower.
After only several weeks of sales, these new products already make up 18% of statewide revenue.
And Florida is one of the largest and fastest-growing markets in the country, so there is plenty of room for expansion even under current medical market conditions, with the opportunity for exponential growth when the state approves recreational sales – which may happen as soon as 2022.
What are your plans for the markets that you're bullish on?
In Massachusetts, we have two co-located recreational stores in operation today and we expect to complete the approval process for another co-located recreational store in downtown Boston later this year.
Our Boston location is expected to be approved in the second half of 2020.
It will be the only downtown location in the city and will be a significant contributor once adult-use sales commence alongside medical sales.
To put it in perspective, our Lowell dispensary is expected to annualize at a $24 million revenue run rate. So, Boston should be at least as large.
We also have significantly increased operational canopy and manufacturing capacity and will be looking to increase our wholesale position in the market in the second half.
In New York, we are gearing up for the expected conversion to adult use by strengthening our supply chain as well as relocating our Manhattan dispensary to a larger location to allow for more throughput.
In anticipation of the medical program's expansion and launch of adult use, we have been making investments to expand cultivation and manufacturing production.
In Florida, our new product listings will serve as a strong catalyst for growth and margin expansion in the state for the second half of 2020 and into 2021.
We also opened an additional five dispensaries in Florida in the first half of 2020, bringing our current total to 10 in the state with an additional four built out and set to open when COVID restrictions ease.
In addition, throughout the first half of 2020, we significantly increased our supply capacity (by at least approximately $50 million annually), which we expect to begin generating revenue this month and throughout the second half of 2020.
We are launching over 40 new product SKUs in the second half of this year, opening new dispensaries and expanding cultivation capacity.
[ad_2]
Written by Kate Lavin.
View the original article at here.
Marijuana Business Daily
mjbizdaily.com