[ad_1]

Massive losses from GameStop in just days … the importance of having an investment plan — even with a speculation … how Louis Navellier uses a plan with his quantitative approach to stocks
How would you like to be down about $18 million … in two days?
That's what just happened to Keith Gill, orchestrator of the GameStop-Reddit-short-squeeze campaign that has filled headlines in recent weeks.
Gill's losses are a good illustration of a reality of investing …
A stock that goes up fast often comes down even faster.
Unfortunately, this means that if you don't time your trade perfectly, big gains can evaporate in a near-instant.
GameStop (GME) is the latest such example.
On the year, the stock soared as much as 1,745% as a calculated short-squeeze sent the price stratospheric.
Yet, as I write Thursday, it has crashed 83% over the last week.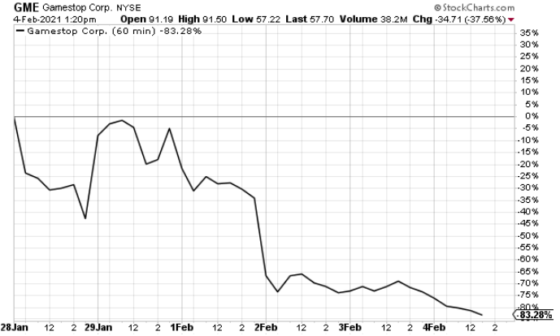 As noted a moment ago, Reddit-leader, Keith Gill, lost $13 million on Tuesday as GME collapsed. That comes after losing $5 million on Monday.
(Gill's GameStop position reached a top value of $33 million when GME peaked, according to Gill's Reddit posts.)
Additional losses are coming fast, as GME is trading 38% lower on the day.
We saw a similar boom/bust story with AMC.
The theater chain's stock surged 839% in 2021 … yet has subsequently given back 64% over the last week. It's down 20% in today's session, as I write.
***Earlier this week, it appeared silver would be the next target of the Reddit investors
Yet that trade seems to have fizzled nearly as fast as it began.
Here's legendary investor, Louis Navellier, with more details:
Just like with GME and AMC, investors bought silver hand over fist.

In fact, online marketplaces for silver, like Money Metals and APMEX Inc., quickly grew overwhelmed with a rush of traffic and began to halt processing orders due to the increased demand until the international markets opened again on Monday.

On Monday, prices for silver started soaring to levels not seen since February 2013, climbing as high as $30.35 per ounce.

Silver futures increased more than 10% and overtook other precious metals like gold, which rose 0.9%.

Shares of miners also trekked higher on Monday, including First Majestic Silver Corp. (AG), which rose as high as 24%, and Pan American Silver Corp. (PAAS), which climbed up 16%.

However, First Majestic Silver fell right back down over 24% today, while Pan American Silver dropped over 13%. Silver slipped more than 8% today, while the S&P 500, Dow and NASDAQ rallied more than 1%.
***This wild stock action is a good reminder of the need to answer "what's my plan?" before sinking a dime into a new stock
Over the last two weeks, I received calls and texts from near-double-digit friends — none of whom work in the investment industry.
They were either wanting advice on how to take part in the Reddit-fueled gains, or they were already invested and boasting of fast riches, telling me which stocks were going to go vertical next.
These calls/texts have fallen off a cliff this week.
Now, this doesn't mean my friends were wrong to be involved with this Reddit-craziness. Taking part in an investment fad can be thrilling.
And who knows? They might have sold near the top.
But if any of my friends are still holding as prices continue to collapse, I'm reasonably sure it's because of one thing …
Lack of a plan.
***When joining in an emotion-driven, "me too" stock surge, you have to recognize it for what it is, and have a plan ahead of time
That plan would answer questions such as …
— If this trade goes poorly, what's the maximum amount of money I'm willing to lose?
— How will that answer affect how much money I invest, and the size of the trailing stop I'll use?
— In deciding that, how much wiggle room do I want to give this stock? (For example, you could risk the same amount of money by investing $10,000 while using a 5% stop-loss, or investing $2,500 while using a 20% stop-loss.)
— What's my profit goal and why?
— If I start racking up some big gains, is there a point at which I'll sell, even though the stock might still be climbing? Or am I trying to ride this trade all the way to the top, knowing that such a goal would inevitably mean I suffer some losses after the stock begins its decline — which could be a steep decline?
I'd love to know what Keith Gill's plan is.
You would have thought the plan was straightforward …
Initiate a short squeeze … enjoy the gains as short-sellers are forced to exit their positions … when news hits that those short-sellers are out of their trade and the stock begins showing sustained weakness, take profits.
That doesn't seem to be the case, as Gill is now down tens of millions of dollars — yet holding (as far as we know).
For what exactly?
GameStop doesn't deserve its current share price based on its fundamental business operations. It climbed to nosebleed levels based on surging momentum, which was triggered by emotion.
But with GameStop's price now down 83% and counting, many Reddit-investors who helped push its price higher are watching their profits gutted. Other investors who bought in near the top are suffering huge losses.
What's their emotion?
Loss? Fear?
Do you believe they're going to continue holding this stock for the long-term? Do you believe even more investors will continue flooding into the stock of this troubled business, pushing its price back up, and ultimately, to new highs — and the price will remain at those elevated levels?
If Gill does believe this, then fair enough. He has a reason for holding (though I believe he'll be wrong).
But without such a plan, Gill is danger of watching his remaining millions disappear.
***Let's look at another surging stock to see how a plan based on strong fundamentals can help you sidestep an emotion-based decision
To do this, we'll turn back to Louis Navellier.
For newer Digest readers, Louis is an investing legend. He's one of the first analysts to use technology to help him identify fundamentally-superior stocks.
He did this by using computers in his stock selection process. This helped cement him as one of the early pioneers of "quantitative analysis" that's now used in just about every investment shop on Wall Street.
Back in November, Louis recommended a biotech stock called Fulgent Genetics (FLGT). Why exactly?
Strong fundamentals.
From Louis, to his Accelerated Profits subscribers on November 16th:
Thanks to its booming COVID-19 business right now, Fulgent Genetics achieved record third-quarter results. Third-quarter revenue surged 880% year-over-year to $101.7 million, up from $10.3 million in the same quarter a year ago. That smashed analysts' estimates for 48.46 million by a whopping 110% …

Company management noted that the "outstanding" third-quarter results were driven by record billable tests deliveries. Fulgent Technologies delivered more than one million tests, or 4,800% year-over-year growth.

With the ongoing pandemic, the company expects demand to remain strong and, as a result, upped its full-year guidance. Fulgent Genetics now expects full-year 2020 revenue of $235 million, up from previous forecasts for $135 million.
Now, these strong fundamentals didn't result in an immediate stock surge.
In fact, below, we see how Fulgent sold off hard right after Louis' recommendation. Even a month later, the position was slightly down.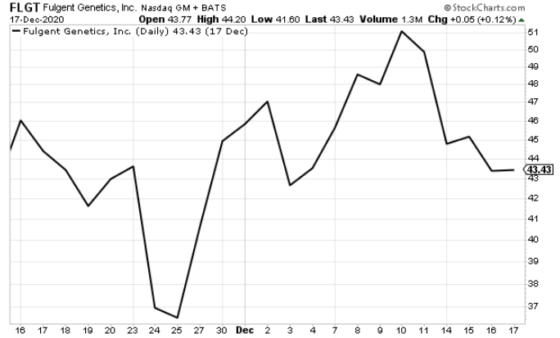 If you were buying based purely on emotion, you might be tempted to bail on this investment. After all, nothing is happening with the stock's price. You'd probably be second-guessing yourself.
But when you have a plan that's based on strong fundamentals, you stay with that plan as long as those fundamentals remain strong.
So, how did it work out for Louis and his subscribers?
Up 185%.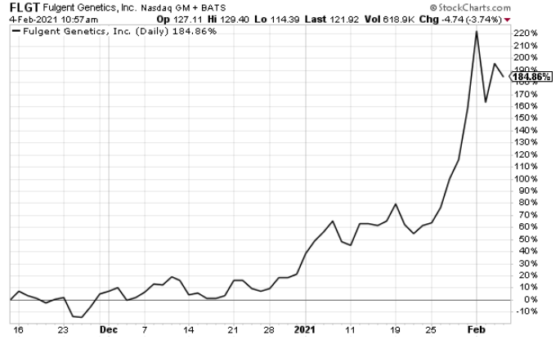 These gains don't mean Louis will be married to the stock.
When Fulgent's fundamentals begin to sour, Louis will recommend his subscribers sell. But such a decision will be based on quantifiable, impartial data — not a hunch, hope, or post from a Reddit board.
Here's how Louis describes his plan:
I, however, do pay attention to price-to-earnings ratios and other fundamentals. Thanks to my Project Mastermind system, I have found that there are eight key qualities that super-performing stocks share.

This system has helped me find fundamentally superior stocks that continually post strong earnings results. In fact, for the fourth-quarter earnings season, eight of my Accelerated Profits Buy List companies have released results from the latest quarter so far, and all eight topped analysts' earnings forecasts.

Even more impressive: The average earnings surprise is a stunning 68% right now. So, the fourth-quarter earnings season is shaping up to be a truly spectacular one for my Accelerated Profits stocks.
It turns out, Louis' Project Mastermind system flagged two additional stocks on Tuesday.
Louis expects the first one will be the leader in the exciting electric vehicle (EV) industry. And he writes that the second one has posted an average 362% earnings surprise in the past two quarters — and it has incredible forecasted earnings growth.
Before we wrap up, let's return to the Reddit-posting board for a moment.
Below is a post from a GameStop investor which I screenshot yesterday.
His/her commentary (small text at the top) reads "We are not selling!" in reference to the lower post, reading "GameStop shares slide below $90 as Reddit rout continues and investors lose billions."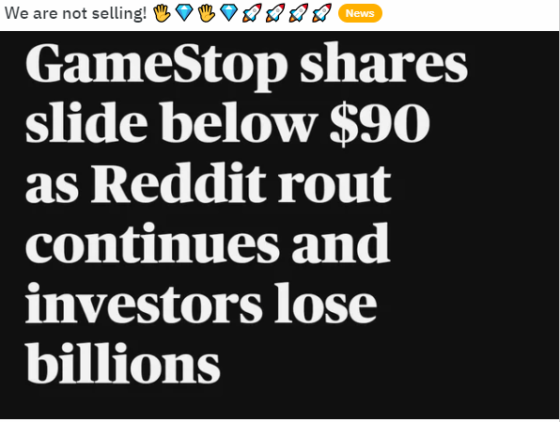 Source: Reddit
Now, you might expect me to suggest this post is foolish.
But who am I to say that?
The truth is that if this person has a plan — a calculated, deliberate reason why he/she is holding, as well as rules which will dictate when to sell, then good for him/her!
I hope the plan works out perfectly.
But without such a plan, "we are not selling!" is nothing more than a great way to lose a tremendous amount of money.
Maybe $59,000 …


Source: Reddit
Or perhaps $100,000 …


Source: Reddit
Or maybe, like Keith Gill, $18 million and counting.
One last question …
If the Reddit-plan is "hold!" and "we are not selling!" then what good is a stock price to the moon anyway?
After all, to enjoy the spoils of your gamble, you have to cash in eventually.
So …
What's that plan?
Have a good evening,
Jeff Remsburg
[ad_2]
Written by Jeff Remsburg.
View the original article at here.
| Stock Market News, Stock Advice & Trading Tips
investorplace.com