[ad_1]

Rising infections lead to yesterday's 650-point Dow drop … more lockdowns would further expand the gap between tech and non-tech … government anti-monopoly crackdowns and tech investors
Yesterday, the Dow ended the day down nearly 650 points.
Among the reasons were investors fearing the impact of surging, record-setting coronavirus cases.
According to a CNBC analysis of Johns Hopkins University data, over the past seven days, new cases have averaged around 68,767 per day.
That's the highest seven-day average recorded so far.
Accompanying those numbers is alarming commentary from Dr. Scott Gottlieb, the former Food and Drug Administration Commissioner under President Obama:
We are likely to see a very dense epidemic.

I think we are right now at the cusp of what is going to be exponential spread in parts of the country.
Experts are pointing toward colder weather as the main factor in the increase. As people spend more time indoors, unable to socially-distance as effectively, the virus is able to spread easier.
While the threat to human life is by far the most important and grave issue on the table, as investors, we also must evaluate this through an economic perspective.
And the trajectory is troubling …
We're on the road to more lockdowns.

***More lockdowns will continue to divide the economy, posing an existential threat to many "old school" business models, while many tech-based companies thrive
To illustrate this "tale of two economies," we can look to where I live — California.
In large part thanks to the coronavirus, the Golden State finds itself in much worse shape economically than most of the nation.
In September, California's unemployment rate came in at 11%. That's well above the national average of 7.9%.
In fact, since the March lockdown, California has accounted for 16.4% of the nation's unemployment, with just 12% of its population.
Behind these numbers is Governor Gavin Newsom's economic lockdown policy that has remained far stricter than that of most other states. This is despite California's continued, gradual reduction in the number of COVID-19 infections and deaths since the post-Memorial Day and July 4th spikes, as you can see below.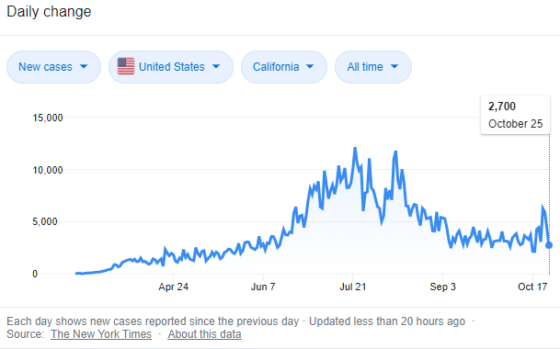 But not all of California is hurting. In fact, behind these numbers lies two vastly different economic fates …
From the Los Angeles Times:
Over the past decade, the California economy has been divided, Janus-like, between a rising innovation economy, based largely in the Bay Area, and the rest of the state where 86% of all new jobs have paid below the median income of $66,000, and 48% are under $40,000 a year.

Once a beacon of opportunity, the state suffers the highest cost-adjusted poverty rate in the country …

Ironically, the biggest threat to California-based jobs may come from the changing nature of technology itself.

Employees at the largest tech companies, including Google, Twitter, Pinterest, Facebook and Salesforce, will very likely continue to work remotely even after the pandemic.

In a recent survey, three-quarters of high-tech venture funders and founders predicted the same for their workforces.

And some 40% of Bay Area tech workers say they would like to move to a less expensive region, which suggests locations outside of California.

***Regular Digest readers will recognize this for what it is — the Technochasm
The "Technochasm" is a term coined by our macro specialist, Eric Fry, editor of Fry's Investment Report.
It describes the growing wealth gap between the "haves" and "have nots" in society — as well as the growing divide between companies that use and adapt to new technologies (and prosper) versus those companies that cling to old ways (and suffer).
The coronavirus has been accelerating this divide here in 2020 at an alarming rate.
As just noted, many employees at technology-related companies are able to continue work from home with little interruption.
This means salaries continue covering the needs of family budgets … corporate profits continue funding company growth … and related stock market gains continue bolstering portfolios.
This is the "haves" side of the Technochasm.
On the "have nots" side, lockdowns are forcing many of "yesterday's" businesses to close their doors, leading to layoffs or furloughs.
In the fallout, family budgets are stretched … business profits dry up … and portfolios rooted in yesterday's business models tread water or lose value.
In 2020, this divide between these two camps has become glaring. According to data from the Fed, 2020 has seen the top 1% of Americans amass a combined net worth of $34.2 trillion that's — 30.4% of all household wealth in the U.S.
Meanwhile, the bottom 50% of the population holds just $2.1 trillion combined, or 1.9% of wealth.
But as we stand today, a new question is beginning to emerge …
Has the success of technology companies become its own worst enemy?

***In recent months and weeks, there have been increasing calls to break up "big tech"
In the politicians' crosshairs are the FAANG stocks.
Here's Eric from his recent update with more:
… on Tuesday … 11 states and the U.S. Department of Justice filed an antitrust lawsuit against Alphabet in an effort to break up its Google subsidiary, which holds an 87% share of the American internet search market.

Of course, Alphabet and the rest of the FAANGs have been prime targets for regulation for years.

In July, the U.S. House of Representatives Subcommittee on Antitrust, Commercial, and Administrative Law called the CEOs of these five companies to testify on whether they engaged in anticompetitive behavior. This hearing was just one part of the subcommittee's 15-month investigation of the FAANG companies.

And it looks like Subcommittee Chair U.S. Rep. David Cicilline (D-RI) and his colleagues could see some measure of success after they release their full report.
So, if the government does, in fact, crack down on big tech, does this mean that investors need to re-think their allocation to tech stocks today?
Back to Eric:
The simple answer is "No."

But it's worth considering "Why?"

That's because the answer underlines an important point about the FAANGs: They have less room to grow.

Compare Apple, which has a market cap of over $2 trillion and dominates several tech subsectors, and one of my favorite stocks for taking advantage of the Technochasm, which has a market cap of less than $2 billion and is growing fast within its tech niche.

Though they're both technology companies, they're really in different universes.

It's important to remember that the FAANG companies are outliers, a concentration of capital unlike anything else in the market.
Eric notes that if the government decides to bring antitrust legislation against this group of companies, the regulations would probably be focused solely on the FAANGs and a few others.
This would likely not be the case for the great majority of smaller tech plays.

***Smaller tech-stocks will likely treat investors better than massive tech-stocks
For example, one of Eric's favorite tech investments today has the second most numbers of patents — behind only Apple — yet its growth potential is vastly greater than Apple's.
In Eric's recent Smart Money update, he highlighted how this company's recently-launched direct-to-consumer operation saw revenue skyrocket over 400% year-over-year in April. And its products were back-ordered for weeks thanks to the stay-at-home phenomenon.
Then there's a recent report by Citron Research that called this company a "leader of … the connected home." Citron argues that the stock should be trading for at least double its current price — Eric agrees.
There are many of these smaller, tech gems that aren't already found in millions of portfolios — or being eyed with suspicion by the government. It's a good reminder the "tech" doesn't have to mean "FAANG."
To learn more about this specific stock that Eric likes as a Fry's Investment Report subscriber, click here.
As we wrap up, the increasing coronavirus cases suggest the Technochasm will continue to divide our country — and our stock market.
But even if you're on the right side of this divide, you're likely to see more explosive gains by looking to the smaller tech plays than to the FAANGs themselves.
Here's Eric with the final word:
If you're looking to invest in tech because you want to see big returns, you can't just look at the FAANGs and the other giants of the sector.

Those companies' stocks just don't have as much room to rise as their small-cap counterparts.
Have a good evening,
Jeff Remsburg
[ad_2]
Written by Jeff Remsburg.
View the original article at here.
| Stock Market News, Stock Advice & Trading Tips
investorplace.com