[ad_1]

The growing number of jobs remained crucial in lowering the office vacancy rate in downtown Hamilton, according to a report from the city council's general issues committee.
The vacancy rate of the office segment in downtown Hamilton was 11.9% last year, the lowest in the last eight years. This rate goes down to 7% if office towers were excluded.
CBC News reported that the decline in the office vacancy rate coincided with the 0.5% increase in jobs in the city over the past year.
"The trends are continuing, and for the last decade, we have been maybe not celebrating enough the revitalization of downtown," said Jason Farr, Ward 2 councillor.
The committee report also found that the city is slowly adopting the co-working trend, with employers allowing work-from-home setups.
The table below shows the nine-year improvement of office vacancy rates in downtown Hamilton: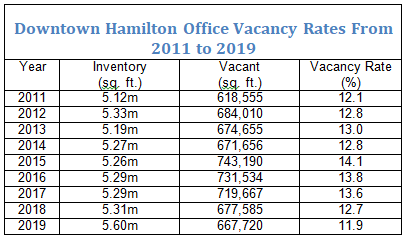 Are you looking to invest in property? If you like, we can get one of our mortgage experts to tell you exactly how much you can afford to borrow, which is the best mortgage for you or how much they could save you right now if you have an existing mortgage. Click here to get help choosing the best mortgage rate
[ad_2]
Written by Canadian Real Estate Wealth.
View the original article at here.
Canadian Real Estate Wealth
www.canadianrealestatemagazine.ca